Historic Hyde Park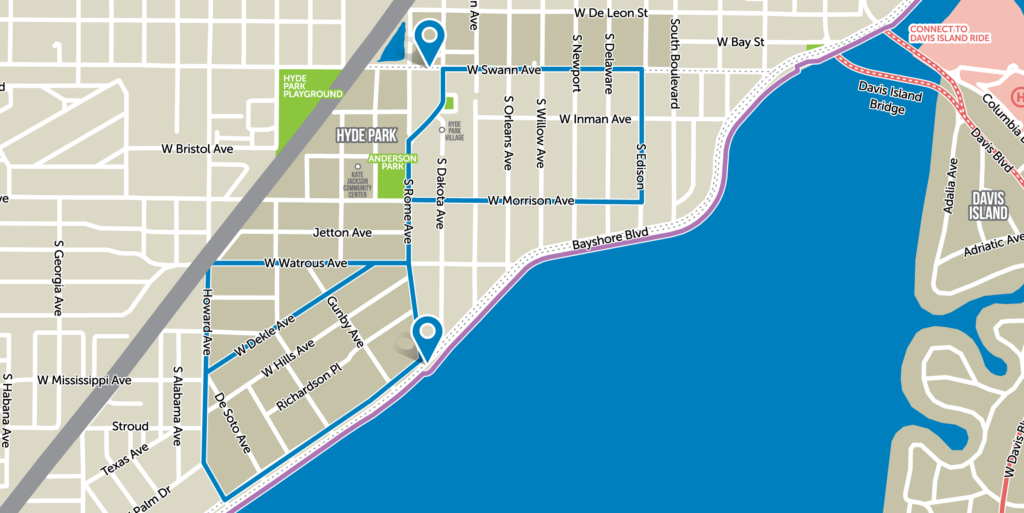 Distance: 3 Miles
Time: 30 minutes
Explore the tree-covered streets of the Historic Hyde Park district with this route that winds from the Village to the bay and back. Hyde Park, listed on the National Register of Historic Places, features an amazing array of homes and gardens, each with a unique character of its own.
The southern end of this ride brings you through Tampa's SoHo district, home to a number of eateries ranging from the heath-centric fast-casual cafe Fresh Kitchen to James Beard winning Bern's Steak House. For those with a sweet tooth, be sure to stop at Chocolate Pi, in the Epicurean hotel for a treat. After a bit of time on the bike, you've earned it, right?
Circling back to the starting point, in Hyde Park Village, stick around for an afternoon of shopping. There's truly something here for everyone. Forget activewear on your trip? Our friends at Lululemon can help you get rolling here as well! While there is a great selection of restaurants here  as well, you have to make a point to visit Goodie Goodie, a Tampa staple, known for their soda shop style burgers and shakes while you're in town. 
This ride features mainly on street riding but is predominantly in slow speed low trafficked neighborhood roads.
Looking for more ride inspiration? Check out the Downtown Tampa.