5 Night Cycling Tips To Help You Enjoy Riding At Night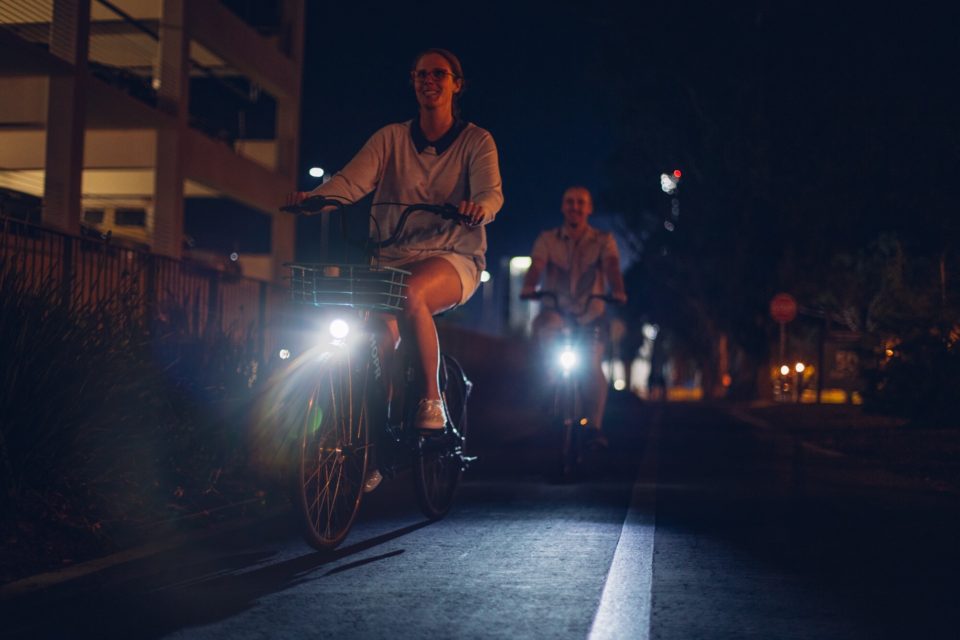 In winter the day gets shorter, and let's admit it, cycling in the dark can be quite intimidating at times, but fear not, we are offering you 5 night cycling tips that will make you enjoy riding around Isla Vista in the dark again!
1. Light up the Dark
This first tip may seem like common sense but we cannot stress it enough – good bike lights go a long way when it comes to night riding. Bike lights help to illuminate the road ahead of you and ensure that you are visible to cars even from a distance. However, getting your own high-powered bike lights can be a big investment, especially if your night riding trips only take place occasionally. This is where HOPR bikes come in, every HOPR bike is equipped with front and back LED lights that make riding at any time of the day easy and fuss-free. Another plus? You will never have to worry about charging your lights, forgetting them or having them stolen!
2. Layer up
The temperature can drop significantly when the sun sets in Isla Vista, so remember to bring a jacket or cardigan with you to keep yourself warm when riding at night. To complete your cycling gear, consider wearing reflectives. Having reflective gear on your arms at night makes signaling turns much more visible to drivers behind you.
3. Plan your route
When riding at night, it is extremely helpful to plan your route ahead of time. Whether you are going for a structured training session or just commuting home, having a route either in your head or on your phone comes in handy. Staying on well-lit streets will make sure that you avoid potential hazards like potholes, cracks and bumps. Try your best to stay vigilant on your night cycling trips as the lack of daylight leaves less room for error.
4. Be prepared and take it slow
It can never hurt to be prepared! Practice safe biking with HOPR and always check your bike (tires, pedals, wheels and brakes) before you start a night ride. You definitely don't want to end up in a situation where you have to fumble in the dark to fix a bike part. At night, when visibility is reduced, also keep in mind to slow down and take extra precaution. With HOPR bikes though, you don't have to worry about maintenance and spending additional time to set up, our bikes are always ready for you in their designated HOPR Ponds.
5. Ride with your friends
Whether your riding during the day or at night, it's always more fun with friends. However, when riding at night, having a friend also makes sure that you have an extra pair of hands and phone battery juice to rely upon if something unexpected occurs. Sometimes it's difficult to anticipate a night ride, HOPR bikes give you the ability to be spontaneous! Just head to one of our HOPR Ponds and easily ride with loved ones, any day, any time! As a HOPR member, you can take out up to 4 bikes at a time, which means you can ride with friends and family all under one account. The first bike is charged at your pass rate (Monthly, Annual, or Pay Per Ride) and any additional bike is charged at the Pay Per Ride rate ($1 Per 30 minutes).
Keep these pointers in mind and you'll be cycling like a pro at night in no time! So what are you still waiting for? Don't let the lack of sunlight demotivate you! Grab a friend and go out for a night cycling adventure on one of our HOPR bikes today!